Virtual Reality Study
PI: Birdie Shirtcliff
Student contacts: tfinseth@iastate.edu; nbarnett@iastate.edu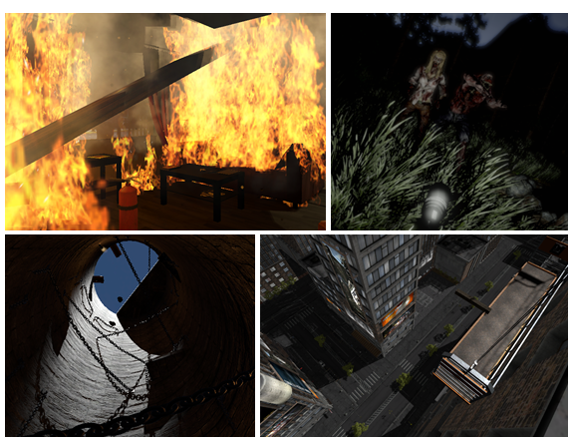 Virtual Reality (VR) is being investigated by the SPIT lab as a standardized stress task. The gold standard laboratory stressor is the Trier Social Stress Test (TSST) which triggers physiological reactivity by making participants feel judged by others. Unfortunately, the TSST is resource intensive, primarily relies on social threat to induce stress, and fails to induce stress reactivity (i.e., non-responder rate) in 30-50% of participants. VR simulations may provide a better medium to conduct stress tests because they require minimal resources and increase replicability. Several VR standardized stress simulations have been developed to induce stress based on emotional, social, cognitive, and physical demands
Accepted Conference Presentations:
Finseth, T., Barnett, N. Shirtcliff, E. A., Dorneich, M., & Keren, N. (2018). Stress Inducing Demands In Virtual Environments. In Proceedings of the Human Factors and Ergonomics Society Annual Meeting. Santa Monica, CA: HFES.
Van Dammen, L., Barnett, N., Conrady, R., Wright, L., Thymes, B., & Shirtcliff, E.A. (2020). Evoking stress reactivity in a virtual dance competition. In Proceedings of the Human Factors and Ergonomics Society Annual Meeting. San Diego, CA: HFES.
******
VerOFy® Saliva and LIAM™ Study
PI: Birdie Shirtcliff; Co-PI: Paul Slowey
Student contact: miocevic@iastate.edu
The purpose of the VerOFy Saliva Study is to evaluate a near real-time, non-invasive salivary cortisol assessment system. SPIT lab has been collaborating with Oasis Diagnostics on the creation of this system since the beginning stages. Our lab serves as the main site for beta testing and coordinating other beta-sites across the country. The objective of this study is to validate and refine the use of VerOFy® device and LIAM™ reader to measure real-time salivary cortisol in human participants. Upon evaluation of usability of the VerOFy® device across six separate beta-sites, findings will further develop and validate the VerOFy® device and associated reader technology for research use. This device will reduce sample processing times and research costs, and offer a standardized platform for hormone measurements. Accuracy of the real-time cortisol measurement method is evaluated by comparing the results to those obtained through traditional enzyme immunoassay. Saliva samples for standard assay and cortisol readings utilizing the VerOFy® device are obtained from each participant using two methods of sample collection across two visits to the laboratory. The present study uses an innovative saliva collection device and reader to quantitatively measure salivary cortisol in near real-time and lower stress-related research costs.
Related publications:
Miočević, O., Cole, C. R., Laughlin, M. J., Buck, R. L., Slowey, P. D., & Shirtcliff, E. A. (2017). Quantitative lateral flow assays for salivary biomarker assessment: a review. Frontiers in public health, 5, 133.
Shirtcliff, E. A., Buck, R. L., Laughlin, M. J., Hart, T., Cole, C. R., & Slowey, P. D. (2015). Salivary cortisol results obtainable within minutes of sample collection correspond with traditional immunoassays. Clinical therapeutics, 37(3), 505-514.
******
Study on Scholarly Writing Stress and the Effectiveness of Trained Graduate Peer Tutors
PI: Birdie Shirtcliff; Co-PI: Elena Cotos & Jenny Mai Phan
Student contact: jmphan@iastate.edu
This Teaching-as-Research (TAR) study funded by ISU CELT aims to assess graduate students' stress levels related to academic writing and to evaluate any changes that occur after receiving peer tutoring. At Iowa State University, the Center for Communication Excellence (CCE) from the Graduate College developed a program to assist graduate students in disciplinary writing and trained a selective group of graduate students to engage in graduate peer mentorship within their specific disciplines. These graduate students after training began tutoring peers within their discipline with writings related to theses, dissertations, proposals, poster and paper presentations, abstracts, and manuscripts. While such a peer tutoring program is made feasible to graduate students and postdocs, we have yet to fully understand students' stress experiences that is related to scholarly writing. Furthermore, the question of whether this tutoring program might actually reduce students' stress levels has yet to be explored quantitatively. The specific aim of this project is to find out if graduate peer mentoring in scholarly writing help to reduce students' stress levels and ultimately, to help students' become more comfortable with writing. If the CCE's graduate peer mentorship program can contribute to reducing students' stress when it comes to communicative writing, these training scholars might see the benefit in effective communication of research in writing, rather than as a graduate program expectation.
******
Children Wellbeing and Pubertal Development Study
PI: Birdie Shirtcliff; Co-PI: Jenny Mai Phan
Student contact: jmphan@iastate.edu
The Childhood Wellbeing and Pubertal Development pilot study aims to better understand how puberty can relate to certain behaviors in children with a developmental disorder or a mental health disorder. The target sample are parents of boys ages 10-15 years old who are starting early stages of puberty through those who are reaching full pubertal development.
The specific aims of this pilot study are to
understand the experiences of puberty in pre-adolescent boys who have had early onset of a developmental or mental health disorder,
gain insight into parent perceptions of their boys' pubertal changes and whether this period of development was stressful for parents, and
test any associations between the boys' developmental and mental health status with pubertal development.
This pilot study is important because it focuses on differences within boys, which informs the broader scientific literature on boys who are most at-risk for increased mental health symptoms exacerbated by puberty. The targeted sample in this study is unique because we screen for children who already have a diagnosis of a developmental or mental health disorder. This study can contribute to the knowledge of pre-adolescents and caregivers experiences during pubertal changes. In understanding these effects during a period of development that all children experience rapid growth and underlying neurobiological changes, the implications of a study like this can help families be more equipped to support their children as they go through these changes as well as other external supports for these caregivers.
To see if you qualify to participate in this study, please click on this link.
******
Financial Stress Project
PI: Birdie Shirtcliff; Co-PI: Clinton Gudmunson
Student contact: nbarnett@iastate.edu
Financial stress is a common, easily generalizable form of chronic stress that is associated with negative mental and physical health outcomes. Despite its critical role in influencing these outcomes, it has not as of yet been investigated from a real-time physiological lens. It is the purpose of the Financial Stress Project to investigate the way in which our physiology reacts to the exposure of financial stress in the form of student loans and credit score. Using bioelectrical impedance, this project examines the autonomic (also known as 'fight or flight') nervous system's response to being exposed to the amount of student loan debt a graduating senior has accumulated as well as their credit score. It is hoped that with this study could provide some insight into the dynamic way in which our bodies cope in response to a highly salient form of everyday stress.
******
Research Collaborations
SDRG – University of Washington
The Social Development Research Group at the University of Washington and SPIT lab collaborate on a few research projects. Social Development Research Group has identified a set of risk factors for adolescent health and behavior problems. SDRG research has shown that certain conditions in children's community, school, family, and peer environments, as well as physiological and personality traits of the children themselves, are common risk factors for problems such as drug abuse, delinquency, teenage pregnancy, and school failure. To see the SDRG research groups' projects, click here.
CHAMACOS – University of California-Berkeley
The Center for the Health Assessment of Mothers and Children of Salinas Study is the longest running longitudinal birth cohort study of pesticides and other environmental exposures among children in a farmworker community. CHAMACOS means "little children" in Mexican Spanish, which reflects the population served. For more info, please click here.
TAG – University of Oregon
Developmental Social Neuroscience (DSN) lab at the University of Oregon (UO) launched the Transitions in Adolescent Girls (TAG) Study. The transition from childhood to adolescence is a time of many significant changes – the end of elementary school and the start of middle school, growing brains and bodies that are going through puberty, and big changes in relationships with family and friends. For more info, please click here.
WTP – University of Wisconsin-Madison
The Wisconsin Twin Research laboratories, directed by Dr. Hill Goldsmith, investigate genetic and environmental features of emotional development from infancy to adolescence. Three major research projects are underway. The Genetics of Emotional Ontogeny (GEO) project examines typical behavioral development from birth to age seven. The Wisconsin Twin Project (WTP) considers both typical development and behavioral problems, and it extends from early childhood to adolescence. The Twin Autism Project (TAP) examines development of children and adolescents on the autism spectrum. For more info, please click here.
EGDS – Pennsylvania State
The Early Growth & Development Study (EGDS) is a nationwide, prospective study of birth parents and adoptive families aimed at investigating how families can help their children develop to their fullest potential. Our study builds on emerging evidence about the relationship between heredity and the family environment—that is, nature and nurture—and how the two work together and separately in child development. This study is the first of its kind to examine such issues and general adoption issues such as openness. For more info, please click here.
PEB – University of Pittsburgh
The SPIT lab works closely with adolescence scholars and neuroscientists at Pittsburgh in order to merge our understanding of the adolescent brain development with the hormonal changes that shape brain development across the pubertal transition. There is a fundamental gap in understanding how puberty affects neural systems supporting emotion regulation in typically developing adolescents. Filling this gap is important to advance knowledge regarding neurodevelopmental markers of risk for mood disorders, which typically onset during adolescence. Check out these labs for more information. For more info, please click here.