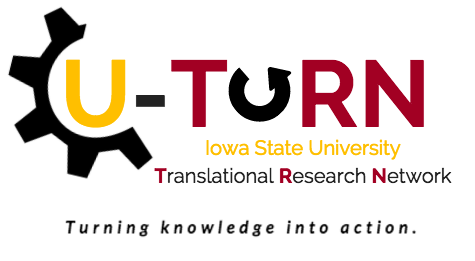 Who We Are:
U-TuRN is a transdisciplinary, translational research network whose vision is to build sustainable community systems that enable healthy lifestyles by empowering communities to take action informed by science.
Complex problems require complex solutions. U-TuRN believes that we can most effectively and creatively change the way that community health problems are examined, studied, and addressed by facilitating linkages between universities, researchers, and community stakeholders.
What We Do:
Communities can benefit from practices, programs, and policies that have been scientifically proven to improve public health, yet evidence-based programming rarely gets disseminated, effectively implemented, or sustained. The fundamental, unifying goal of U-TuRN is to determine the optimal methods and approaches to translate knowledge to practice by getting scientific information into the hands of community leaders who are best positioned to make an impact. Our team of experts directly study and address the gaps that limit the translation of science to practice; the diversity in our teams' experiences and areas of study allow us to consider the multiple contexts in which translation occurs and to determine the necessary practice and research infrastructure supports needed for effective dissemination.
How We Help:
U-TuRN is positioned to broaden the impact of faculty, staff, and community leaders and stakeholders by:
Promoting faculty and staff engagement and collaboration on innovative, translational research efforts

Supporting population health change by translating scientific knowledge to real-world problems

Connecting community leaders with research experts to study and address health problems and improve the adoption, implementation, and sustainability of evidence-based programs and practices in communities