Please see our FAQs page for a list of frequently asked questions about our survey.
---
11 February 2021
---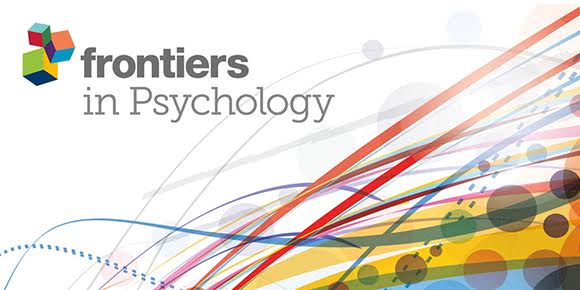 07 September 2020
---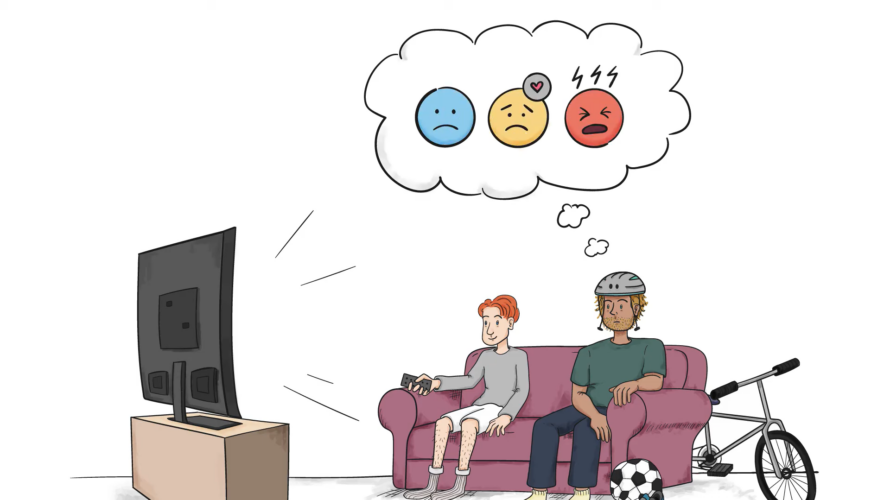 ---
05 September 2020
---

Our manuscript is now published in the Exercise Science section of the International Journal of Environmental Research and Public Health.
Changes in Physical Activity and Sedentary Behavior in Response to COVID-19 and Their Associations with Mental Health in 3052 US Adults
---
21 August 2020
---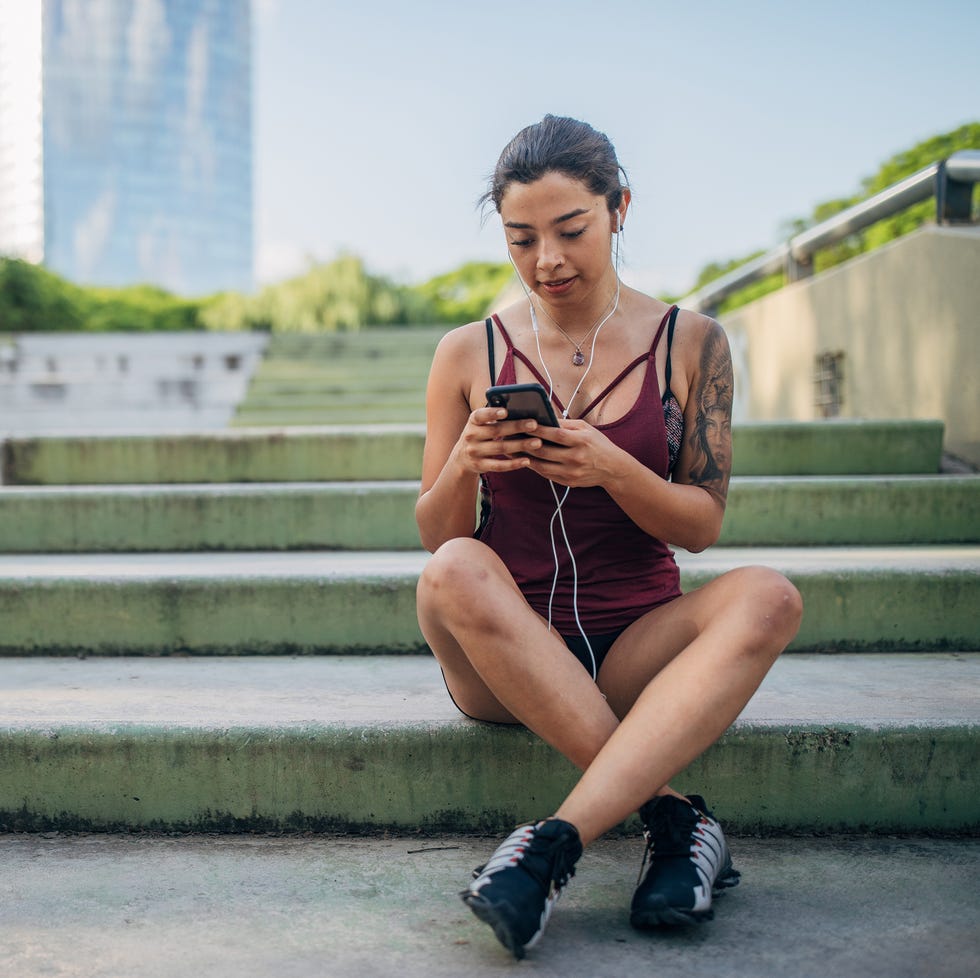 "Those people who were meeting the guidelines pre-COVID and were no longer meeting guidelines had higher depressive symptoms than those who continued to meet the guidelines," Meyer said.

Jordan Smith, Digital Editor (Jordan Smith)
Read the Runner's World article here: How Increased Screen Time During Coronavirus Outbreak Is Affecting Your Mental Health
---
15 July 2020
---
"Already, Meyer notes, the physical activity data he's been tracking suggests people are spending about an hour more time outside each day than they were at the beginning of the pandemic. Part of that might be due simply to the warmer weather in the northern hemisphere, but Meyer sees it as a promising sign that people are moving around more—hopefully in ways they can sustain for years to come, gym membership or not."

Jamie Ducharme (@Jamie_Ducharme)
Read the TIME article here: The Pandemic Is Turning Americans Against the Gym. That Could Be a Good Thing for the Nation's Health
---
25 June 2020
---
"Exercising can be as effective at treating depression as an antidepressant."

Jacob D. Meyer, PhD
Read the Washington Post article here: The way these older amateur athletes are staying fit despite the pandemic offers lessons for all ages
---
27 May 2020
---
"Thanks @GretchenReynold for reviewing preliminary results from our COVID and Wellbeing survey. Maintaining exercise/limiting screen time increases appear key for mental health during the pandemic. @mph8 @ActiveBuildings @MarkATully @cassbrower @WellEx_ISU"

Jacob D. Meyer, PhD @JMeyer37
Read the New York Times article here: A Possible Remedy for Pandemic Stress: Exercise
---
12 May 2020
---
"I had the pleasure to speak with Jamie Ducharme about our ongoing COVID and Wellbeing project. Preliminarily, US activity appears to be changing drastically in association with mental health in 3k+ adults. Informative results, but early-stage."

Jacob D. Meyer, PhD @JMeyer37
Read the TIME article here: COVID-19 Is Making Americans Even More Sedentary. The Effects Could Be Long-Lasting
---
06 May 2020
---
Our pre-print is now available online on Cambridge Open Engage!
Jacob Meyer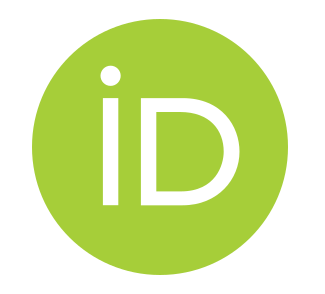 Iowa State University, Cillian McDowell Trinity College Dublin, Jeni Lansing Iowa State University, Cassandra Brower Iowa State University, Lee Smith Anglia Ruskin University, Mark Tully University of Ulster, Matthew Herring University of Limerick
Abstract
This project evaluated the impact of COVID-19-related public health restrictions on physical activity, sedentary time, mental health, and their interrelations. Cross-sectional data were collected from 3,052 US adults on April 3rd-7th, 2020. Physical activity, sitting, and screen time, both pre- and post-COVID-19-related restrictions, along with currently-followed public health restrictions and current mental health were self-reported. Participants were grouped by meeting physical activity guidelines, ≥8 hrs/day of sitting, or ≥8 hrs/day of screen time. Physical activity was reduced by 32.3% among previously active participants but largely unchanged among previously inactive participants. No longer being active and increased screen time following COVID-19-related restrictions were associated with worse current mental health. Self-isolation/quarantine was associated with higher depressive and anxiety symptoms compared to social distancing. Concerted efforts to maintain and enhance physical activity participation and limit screen time during pandemic-related public health restrictions are needed to mitigate short- and likely long-term mental health consequences.
---
03 April 2020
---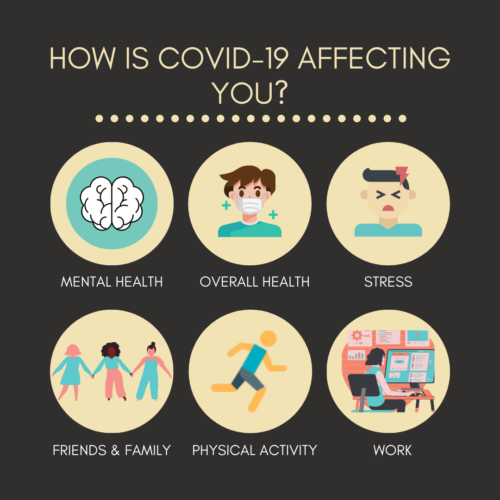 We want to know how behavioral and social changes related to COVID-19 are affecting YOU to learn about how they are influencing our country!

Anyone 18+ years old who currently resides in the United States can participate in the COVID-19 and Wellbeing Study. In collaboration with researchers in the UK and elsewhere, this study is designed to better understand how COVID-19-related guidelines, such as social distancing, social isolation, and sheltering in place, impact physical and mental wellbeing. Participation in this study consists of completing a brief online survey. This survey will take about 20 minutes to complete and contribute to our understanding of the impact of COVID-19 in our communities, our states, country, and world.
If interested in participating, please click here to complete an anonymous online survey. More information about what COVID-19 is, how it is spread, signs and symptoms and government recommendations and/or requirements can be found at the Center of Disease Control and Prevention website and the World Health Organization website. Information and updates on the effects of COVID-19 related to Iowa State University can be found here.
If you have additional questions, please contact Dr. Jacob D. Meyer, Ph.D., and the Wellbeing and Exercise Lab at wellex@iastate.edu. Please pass this information along to anyone else who you think might be interested in assisting in this research. Thanks for your consideration and for supporting this research effort!
---