Several members of the Research Network for Game Studies have been closely involved in the exciting projects around esports on the ISU campus. We are making progress towards a 2020/2021 grand opening of the new gaming and esports facility and collaborating together on gaming projects and research.
Want to know more? Read some of the news articles below:
Adventure. Game on. Picture this. It's a heated intramural competition. Players are giving it their all. Striving for victory. Playing their hearts out. So, is this competition happening on a football field? Maybe a basketball court? Nope. It's all happening in front of a computer screen.
Iowa State to build new gaming space. Construction for a robust student gaming center is underway and could set standards for collegiate gaming programs.
Iowa State Investing in Esports & Gaming, Transitioning Club to Sport Level. Video games are becoming more than just something students do in their free time on their futon in a college dorm room, they're now reaching a competitive level. Starting this year, Iowa State University is supporting competitive gamers the same as sport club level athletes, being put in the same category as Cyclone hockey and baseball.
Iowa State esports community sees growth with construction of new gaming space. Esports is quickly expanding its presence at Iowa State. Construction for a student gaming center is underway with a hopeful completion date in the fall of 2020. Esports intramurals, which saw it's introduction last semester with Rocket League, will see the introduction of Super Smash Bros. and Fortnite this semester.
Students and faculty show support for esports movement. For the past year, students and faculty at Iowa State have been working to get a new program off the ground. This program supports students wishing to play their favorite video games at a competitive level.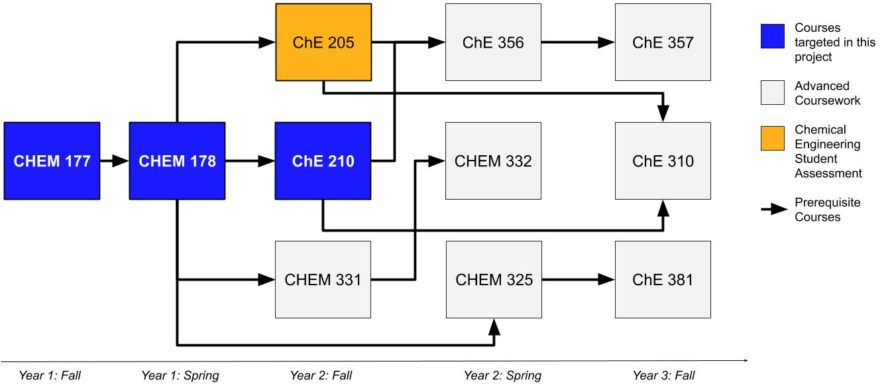 The retention of students pursuing chemical engineering degrees is essential to the future science, technology, engineering, and mathematics (STEM) workforce, but failure in introductory coursework is a barrier to degree persistence and completion. The goal of this project is to establish effective strategies for the application of gamification in courses that appear early in the chemical engineering curriculum, supporting the retention of students in the major and the graduation of chemical engineers. This will be achieved through the development of a chemistry and chemical engineering focused dashboard that is integrated within an online learning management system that includes gamification tools (i.e., leaderboard, badges, and rewards). The results from this project will contribute to the understanding of the motivating factors afforded by gamification in chemical engineering coursework, and also provide foundational knowledge for applying gamification to courses in other STEM fields.
Despite the positive research on impact of gamification on engagement and academic achievement, only a small number of studies focus on large enrollment STEM courses, and few incorporate robust measures to rigorously and systematically assess students' behavioral, cognitive, and affective changes. Development and testing of the dashboard will occur with three cohorts through multiple, large enrollment, undergraduate courses. In addition, a rigorous evaluation framework, that includes an advisory board of national experts, will provide formative and summative feedback on the project. Project deliverables include (1) development of a gamification dashboard, (2) evaluation of the dashboard using surveys, online data, and focus groups, and (3) dissemination of project outcomes through presentations, publications, a website, and social media. The quantitative analysis of behavioral outcomes and motivational surveys will be complemented by a rich qualitative understanding of how students made sense of the dashboard and what role the intervention may have played in their emerging identities as engineers. The novel data collection will triangulate findings to offer a detailed understanding of how student motivation and academic achievement in chemical engineering interact and are informed by the use of a chemical engineering focused gamified dashboard.
NSF#1928842
PROJECT PERIOD: 01/01/2020-12/31/2022
PI: Dr. Larysa Nadolny
Co-PIs: Michael Brown, Monica Lamm
Larysa Nadolny
Associate Professor
1660C Lagomarcino Hall
901 Stange Rd, Ames, IA 50011
515-294-9928
lnadolny@iastate.edu
News
Follow Us

Topics