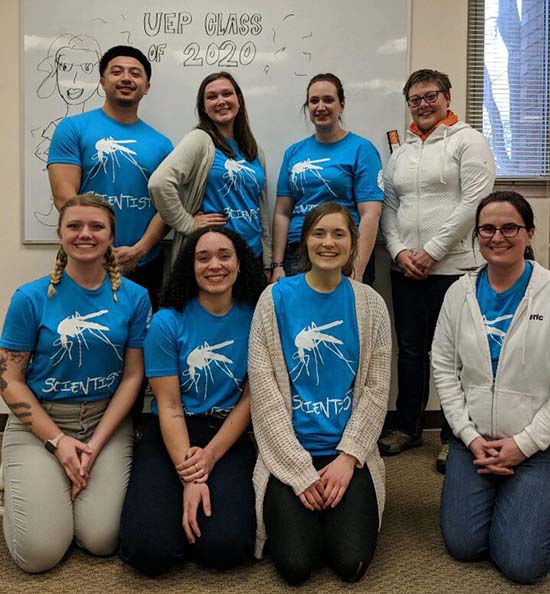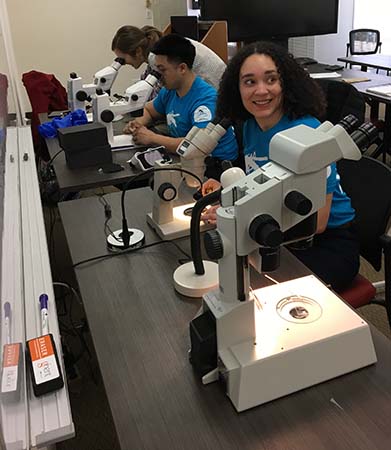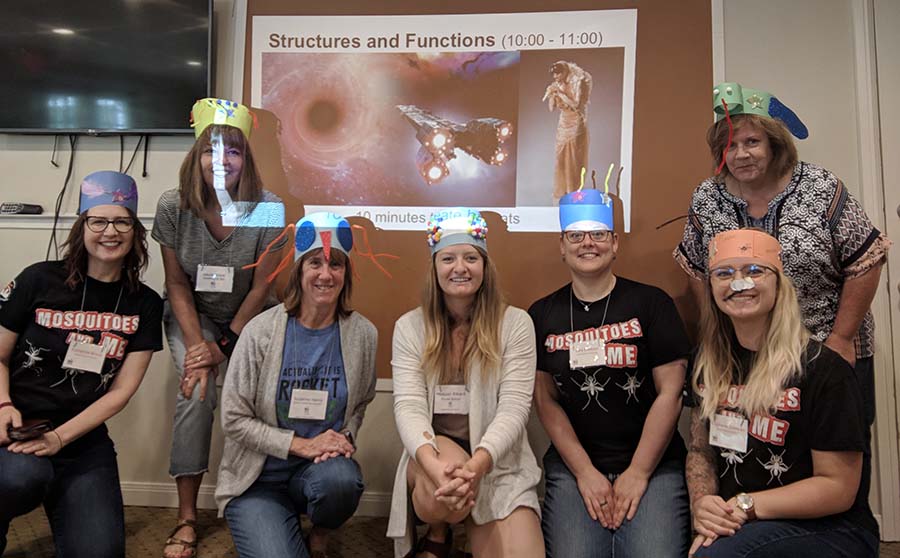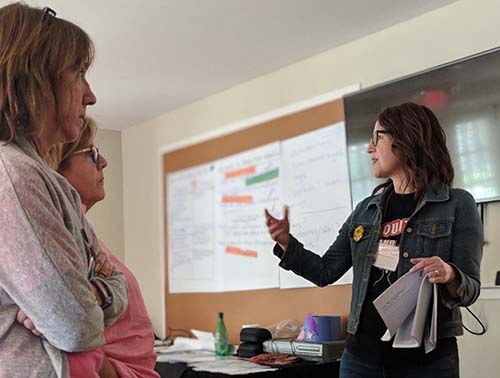 The Urban Ecosystem Project is located in the School of Education at Iowa State University.  Our office supports both the Mosquitoes & Me youth programs (Summer Camp and After School Program) and programs for educators.  We encourage participation from all educators, and have developed the following resources and groups for them to get more involved.
Teaching and Learning with Insects: An Ambitious Science Approach
Interested in using insects to spark young people's sense of wonder about the natural world? Want to empower young people in using the practices of science to explore and enhance their communities? The Urban Ecosystem Project's (UEP's) Teaching and Learning with Insects course is for you!
The UEP is looking for educator partners who are eager to add insects to their teaching repertoire and bring the benefits of the Mosquitoes & Me curriculum to more young scientists. Complete details on this new opportunity are available on the Teaching and Learning with Insects: An Ambitious Science Approach website.
Pre-service Teachers
Undergraduates at Iowa State University that are majoring in elementary education begin by taking the Teaching and Learning with Insects course (see description below).  This course has been offered as 1 credit in the fall and 2 credits in the spring semester, and is arranged according to the existing class schedules of our students.  In addition to the classroom learning activities, these future educators take their knowledge of creating engaging science lessons into their practicum classrooms and the Mosquitoes & Me Summer Camp.
Teaching and Learning with Insects, ISU Course Catalog Description
EDUC 441X. Teaching and Learning with Insects. Cr. Variable. F. Prereqs: Junior standing. Concurrently enrolled in Block I practicum in Fall and Block II practicum in Spring (Elementary Education). Introduction to the biology and natural and social ecology of insects with a focus on the use of insect inquiry in the K-8 classroom, and to culturally- and linguistically-responsive and ambitious science teaching, as well as community-based participatory or "citizen science" research. In- and out-of-school teaching and educational activities related to insects. Intended for Elementary Education Majors and other students with an interest in engaging learners' curiosity about the world through insect biology and the relationship between insects, humans, and public health.
Professional Learning Community for In-service Teachers
Experienced teachers that are busy managing their own classrooms or various educator roles are involved with the Urban Ecosystem Project (UEP) through a Professional Learning Community (PLC).  These teachers meet for a total of 30 contact hours during the school year to collectively learn about Ambitious Science Teaching (AST) and then generate AST lessons that they implement with their students at the end of the year.
The UEP Ambitious Science Teaching PLC is registered with the Heartland Area Education Agency as a qualifying professional development course.  This qualification allows participating teachers the opportunity to apply for a 2-credit license renewal course as part of their participation in the PLC.  This course is organized and offered in response to teacher interest.
In addition, the Urban Ecosystem Project reaches in-service teachers by presenting at the K-12 Summer Institute.  This conference provides professional development in science education and connections between health and the environment to K-12 Educators in Texas.  This is a great example of how UEP is expanding science education and working to share the Mosquitoes & Me programming with many more educators and youth nationwide.
Community Educators
The Urban Ecosytem Project also recruits people from various scientific fields and community-based organizations that are passionate about education and want to be involved with Mosquitoes & Me programing.  These individuals often play key roles in engaging youth in informal education settings, also known as their out of school time.  These educators have participated the Mosquitoes & Me After School Program, Summer Camp and have taken the Teaching and Learning with Insects course at ISU.  Our program greatly benefits from their unique circumstances including scientific experience and/or involvement in the communities and close relationships with the youth and their families.