In October 2019, the Urban Ecosystem Project received additional support from the Science Education Partnership Award (SEPA) program at NIH to expand our project aims to include book publishing and additional youth programming.
Mosquitoes & Me Comic Book Club
Participants from the Mosquitoes & Me Summer Camp were invited to join a unique after-school program. The young mosquito scientists are applying their knowledge of mosquito biology, ecology and infectious disease to the creation of their own comic book stories. Additionally, they provide critical feedback and material for the professional comic book, to be published and released in 2021.
Youth Comic Book Project displayed at the ISU Student Innovation Center
In early 2021, the ISU College of Human Sciences featured the work of an exceptionally talented young mosquito scientist and comic artist in the opening exhibit at the *NEW* Student Innovation Center on campus. Click on the image captions to see videos of the exhibit and displayed work created by a Mosquitoes & Me Comic Book Club participant.
Publishing a Mosquito Science Comic Book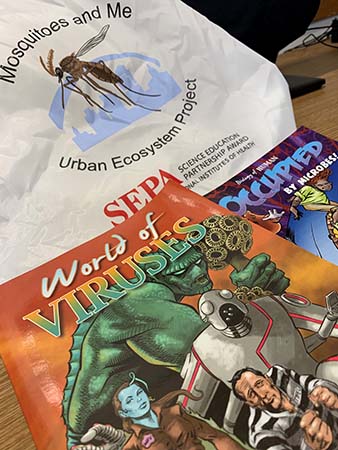 We are very excited to be working with a team of scientists and artists to create a NEW comic book! They include Judy Diamond, Bob Hall, and Aaron Sutherlen. These team members are very experienced, having published the Carnival of Contagion, World of Viruses, and Occupied by Microbes!. You can download these stories (with additional activities and podcasts included) from the iTunes App store.
Now Available: Mosquitoes SUCK!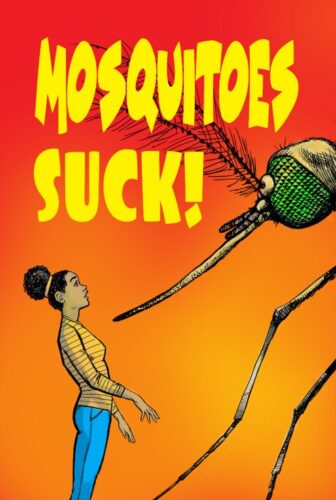 Our NEW mosquito comic book has just been published by University of Nebraska Press! Check out the comic stories and essays in Mosquitoes SUCK! today.
This comic book is inspired by the Mosquitoes & Me Summer Camp. Watch our most recent YouTube video to learn more about this experience for educators and young mosquito scientists.
What's the Buzz about Mosquitoes SUCK!?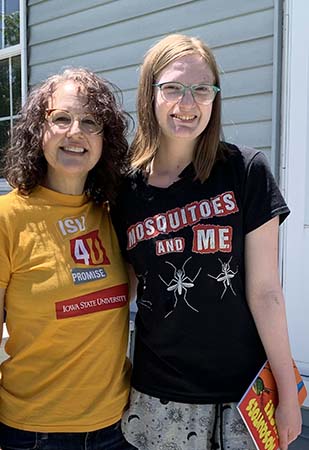 June 12, 2021 – Young mosquito scientists get a first look at the Mosquitoes SUCK! comic book that they helped create!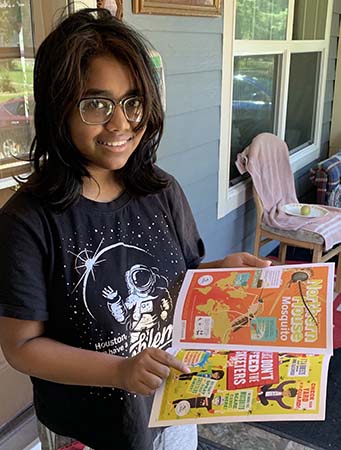 Former participants in the Mosquitoes & Me summer camp will find clues and hidden messages or "Easter eggs" that acknowledge their work and inspiration of the book.
Follow us on Instagram to see the progress of the Mosquitoes & Me Comic Book Project and our current programming and events with the Mosquitoes SUCK! comic book.